Your community relies on a complex array of interconnected services and assets to provide a foundation for continued growth and prosperity. Our municipal team understands the importance of building lasting relationships and working closely with your stakeholders to ensure every dollar spent creates value. You can rely on our experienced team of engineers, designers, and project managers, as well as our industry-leading in-house construction quality assurance and quality control (QA/QC) team to ensure you receive the asset you envisioned. Our past clients will attest to this – most of our work is repeat work!
Helping you Build your Community – Choose an Engineering Partner Who Cares Deeply
Journey's engineering team has an excellent track record in all manner of municipal projects, especially:
Sanitary, Stormwater, and Water Utilities Design

Utilities, sewage lift stations, wastewater ponds, water storage reservoirs (ponds), pump stations, and infrastructure rehabilitation

Stormwater Management Design and Analysis

Municipal hydrology modelling, overland drainage design, floodway assessments, watershed studies, stormwater ponds, oil and water separation, erosion and sedimentation, outfalls, dry ponds, and culverts

Subdivision and Site Development Engineering

Subdivision planning and design, land development, industrial site planning and design, site plan development, site grading, sports fields and parks, agriculture site development, site servicing, and approvals

Solid Waste Management

Planning, siting, design, permitting, operating and closure of municipal solid waste, industrial and oilfield waste, construction and demolition waste landfills, as well as transfer stations, leachate management, landfill gas, operations and management, feasibility / capital / master planning, audits, and training

Asset Management

Capital / master planning, infrastructure condition assessments, risk management, program management, building engineering, structural analysis, supervisory control and data acquisition (SCADA), and instrumentation & controls

Water Resource Engineering

Pipelines, groundwater assessment and development, reservoirs and dams, river and stream bank erosion, intakes, engineered wetlands, irrigation canals / structures / pumping, low impact development, and licensing

Transportation Planning and Engineering

Urban roads, sidewalks / curbs / gutters, intersections, highways, rural roads, parking lots, site access roads, trails / pathways, rail crossings, rail yards / sidings, and gravel pits

Environmental Remediation Engineering

Site assessment, development / reclamation plans, decommissioning / demolition, and site remediation
Engaging the right team for your municipal needs can save considerable time, money, and stress. We can handle not just the complete spectrum of technical requirements but the associated regulatory, procurement, and construction QA/QC activities. Our field inspection team is truly industry-leading and ensures that your asset is built according to design and specifications. Our field inspectors carry various accreditations and certifications as well as being licensed to operate drones on site. We will support on survey, material testing, and project safety. Contract administration is handled as close to the project as possible with full office support.
We are always excited to review your project and help you generate ideas in support of the solution you need!
Related Municipal Utilities Projects: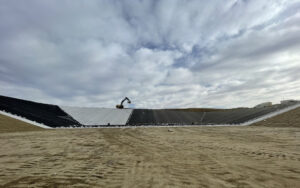 Western Regional Landfill Inc. (WRLI) has a beautiful new cell and the airspace required to meet their communities' needs! With tight timelines for 2020 construction, we were thrilled to be selected as …
Read More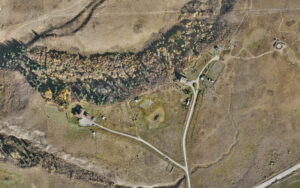 A residential landowner reached out to Journey and requested a significant topsoil volume on the property to aide in the future development of the property.
Read More