We are used to working shoulder to shoulder with our client teams in order to innovate and find the best solution to the current problem. Aging or repurposed infrastructure can still deliver exceptional results with the right engineering, we are here to help. Our engineers understand the interplay between complexity and practicality and will work hard to ensure the project team, operations and your sponsors get what they need.
Are you struggling with getting your oil to market on a limited budget?
The Western Canadian oil patch is currently under tremendous pressure from the lack of pipeline market capacity, which has pushed large scale capital investments out of the western sedimentary basin. Building oil batteries is currently one of the most active areas of innovation and experimentation in the ongoing challenge to bring heavy oil to market.
Journey understands that your capital budget is heavily scrutinized and results are key. We have been working with oil batteries since the 1990s – whether you need a new battery or to optimize an existing facility, the Journey team is excited to collaborate with your team on your next successful project.
Full-Service Terminals (FSTs) for gathering and disposal of oilfield waste, solids, and liquids
Pump stations, initiating stations, booster stations, vertical can, centrifugal and PD pumps
Storage facilities, API 650 crude oil tankage, butane bullets, tube storage
Custom blending including both condensate and butane blending
Custom processing, treaters, FWKO, 3 phase separation
Custody transfer metering including meter proving
Commissioning and start up
Detailed engineering
De-bottlenecking
Regulatory and Operations support
FEED studies
Some of our completed oil battery projects include:
Satellite Battery Upgrade – Journey came up with a practical solution for our client to maintain operations when their producing wells were left stranded by the suspension of two large gas plants. This upgrade was designed to handle between 1 and 2 MMSCFD of gas and associated oil production and included separation, oil treating, storage, and compression capacity to divert gas volumes to a regional plant. This was completed in 2021 within a short timeline of only 3 months.
Central Alberta Sour Oil Battery – A new facility that is capable of 2,000 m3/d of oil, 2,500 m3/d of water, and 300 e3m3/d of solution gas from both sweet and sour gathering systems. All gases comingle into a final sales stream and all oils are comingled into a separate final sales stream. The sweet water is segregated from the sour water for use in a water flood.
Leduc Area – This project was completed in 2016 and includes an inlet separator, reciprocating gas compressor, centrifugal liquid pump, MCC building, control building, tank farm, and a flare system.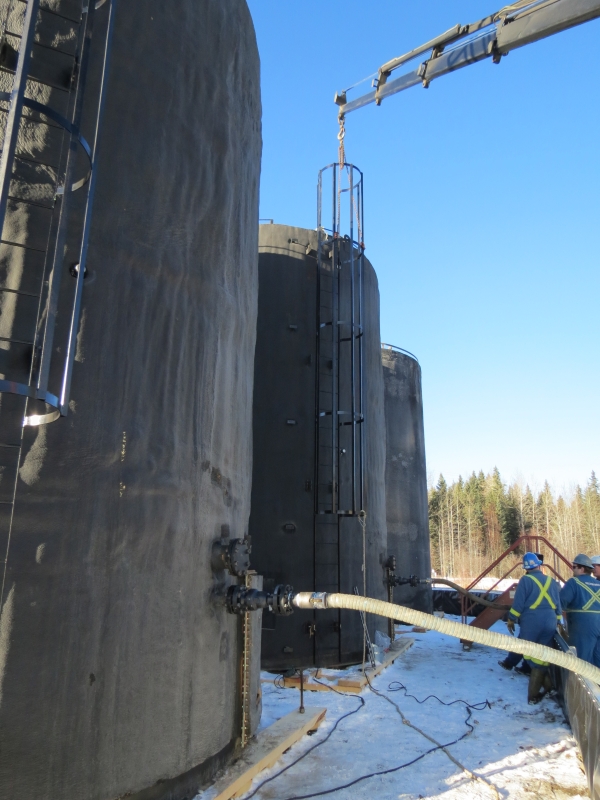 Related Oil Batteries Projects: