General Civil Engineering & Site Drainage
The importance of a robust site civil and drainage strategy is often overlooked in the construction of larger assets. The Journey team has decades of experience in this space, having been involved in numerous greenfield designs as well as brownfield repairs or optimizations. You can rely on our experienced team of civil, hydrotechnical, and geotechnical engineers as well as our industry leading in-house construction quality assurance and quality control (QA/QC) team to ensure you receive the site you envisioned.
Build on a Solid Foundation – Trust our Professionals to Guide Your Civil Project
Engaging the right team for your general site civil needs can save considerable time, money, and stress. We can handle not just the complete spectrum of technical requirements but associated regulatory, procurement, and construction quality assurance and quality control (QA/QC) activities. Our field inspection team is truly industry-leading and ensures that your asset is built according to design. Our field inspectors carry various accreditations and certifications as well as being licensed to operate drones on site. We will support on survey, material testing, and project safety. Contract administration is handled as close to the project as possible with full office support.
We are always excited to review your project and help you generate ideas in support of the solution you need!
Journey's civil engineering team has an excellent track record in all manner of civil work, including:
Facility Civil Engineering and Design
Access Roads, Well Pads, Plant Site Earthworks, Grading, Water Storage Reservoirs (WSRs), Crossing Design, Tank Farm Design,
Containment Structures
Water Resource Engineering
Channels and Dams
Flood Protection
Storm Water Management
Erosion Protection
Slope Stability Studies
Related General Civil Engineering & Site Drainage Projects: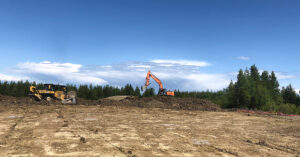 Journey partnered with the Client to complete the civil work related to the development of a new water disposal facility. The work included design, procurement
Read More
Journey's approach was to conduct a site inspection to record areas of concern, and then prioritize the areas in a Work Plan that the Client's Operations staff could implement readily.
Read More